Introduction
About this Recipe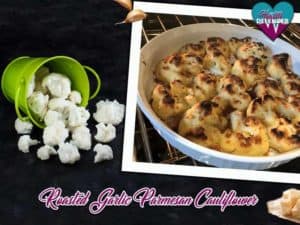 By: Theresa AuCoin
Even cauliflower haters may fall in love with this. The last time I prepared this for a few guests, each of them swore that this was by far the very best roasted cauliflower they had ever tasted! And it's REALLY HEALTHY for you!
1 large cauliflower head cut into florets, slicing the larger pieces in two

1 stick of butter melted

1 heaping tablespoon minced garlic – optional

1/2 cup parmesan
Step-by-Step Instructions
Preheat oven to 400 degrees F.
Melt butter in a bowl.
Optional – Add minced garlic to the butter.
Mix the flour, parmesan, salt, pepper and garlic powder in a bowl.
Dip each piece of the cauliflower into the melted butter and roll in the dry mixture.
Place on baking sheet.
Roast for 30 to 40 minutes.
For the last few minutes, turn the broiler on to get each piece nicely browned.