Introduction
About this Recipe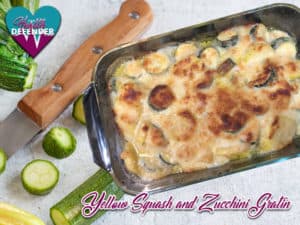 By: Theresa AuCoin
I prepared this for my son-in-law's visit this week. I knew he was on a veggie heavy diet so I thought this would be perfect to go with the rest of our meal. Well, THANKFULLY he did love it, which is really great because he told me he as he sat down that he usually does not like squash and zucchini! After his third helping, I concluded that he really did like it. He actually raved about it. Plus it's super healthy for us! Look at the ingredients!
Ingredients All Organic Please
6-8 yellow squash, sliced into 1/4 inch thick slices
6 – 8

 

zucchini squash, sliced into 1/4 inch thick slices
1/2 stick butter (add more if needed)
1 medium red onion chopped and diced
1/2 cup of minced garlic
Himalayan Salt and White Pepper
1 can Coconut Milk that has been refrigerated at least 24 hours (use the top 2/3's)
3/4 cup Garbanzo Bean Flour
1 cup grated Parmesan cheese
Step-by-Step Instructions
Preheat oven to 450 degrees.

In a very large skillet or in a large Dutch Oven (I prefer) melt butter over medium heat.

Add zucchini, yellow squash, onion, and garlic.

 

Season with salt and pepper.

 

Cook, stirring occasionally, until zucchini and squash are beginning to get tender, but not mushy, maybe 4-7 minutes.

 

Add more butter if needed.

Before adding the milk, if the mixture is too watery in the bottom, you can remove all to a strainer in the sink and eliminate much of the watery liquid.

Once all is back in the skillet or dutch oven, add the top 3/2 of the can of coconut milk.

 

Just spoon it out so that you are getting the thicker part plus some of the clear liquid.

 

Stir and cook this until it begins to thicken.
Add in 3/4 cup of the garbanzo bean flour and 1/2 cup of the Parmesan.

 

Stir.
Spoon all into a baking dish.

 

Sprinkle with the remaining Parmesan on top.

Bake until the top is golden, about 8 – 12 minutes.

ENJOY!