Oven-Roasted Asparagus
Asparagus may be small, but they are mighty…and if you follow the recipe, they are mighty good too!
Asparagus is full of surprises. Did you know asparagus has a close relationship with the Lily family? (Don't worry, it's entirely PLANT-onic).
While asparagus is super low in calories, it boasts a robust nutrient profile. It is a good source of Vitamins A, C, E, and K. Most importantly, it contains an impressive amount of folate, which is imperative to support the body during pregnancy. It doesn't stop there; asparagus contains various micronutrients such as zinc, riboflavin, and iron.
I know what you are thinking: All of that nutritional power packed into that cute little greenie? Yep. On top of everything it contains, it is an awesome antioxidant and a great source of fiber, including insoluble fiber, which has been known to promote healthy bowel function. Studies have suggested that diets rich in fiber are linked to reducing the likelihood of heart disease, high blood pressure, and diabetes.
The reason I bring you my Roasted Asparagus recipe is not simply to highlight it as a nutrient-rich powerhouse—I bring it to you because it's easy to cook! You can boil, steam, grill, roast, and saute asparagus to perfection. It can be featured as an entree, added as a side dish, or even incorporated into omelets, frittatas, salads, stir-frys, and pasta. Roasting is just one way I love to share this fantastic vegetable with my loved ones. How about you?
I hope you enjoy my Roasted Asparagus recipe! Remember to not overlook the little green giants that lay before us.
Ingredients
12–16 oz fresh asparagus (as thin as a pencil)
1–2 Tbsp olive oil
2 garlic cloves, finely minced- using a garlic press is ideal
Salt and pepper to taste
1 Tbsp lemon zest
A squeeze of lemon juice (after roasting the asparagus)
Optional embellishments include: finely grated parmesan cheese or try a parmesan sprinkle, basil or flat-leaf parsley, toasted slivered almonds, toasted pine nuts, or chili flakes if you want to add some zest!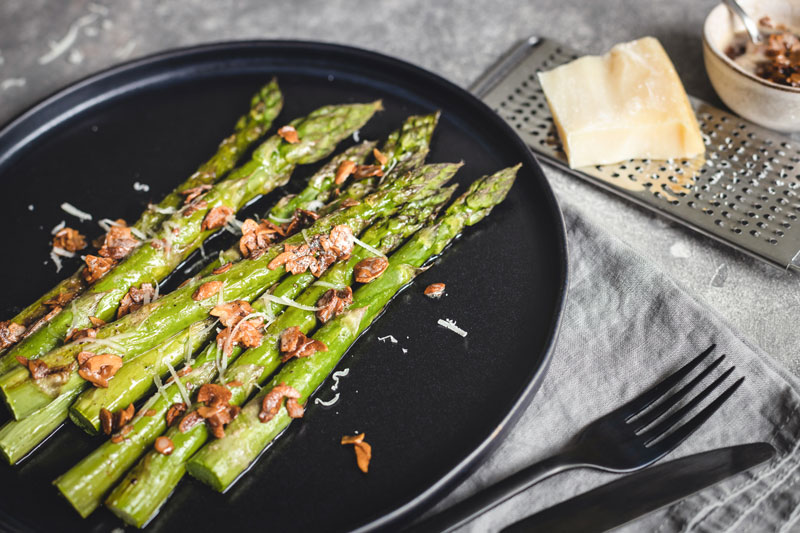 Instructions
Preheat your oven to 400 degrees Fahrenheit
Trim asparagus as so: Hold one spear of asparagus in your hands toward the end that was cut, and with your hands, bend until it snaps. The point where it naturally breaks will leave you with tender portions to enjoy while you can dispose of the rough ends that aren't so appealing. Laying that one next to the others, cut the remaining spears to match this length, and you will have perfectly soft stems.
Toss your trimmed asparagus in a bowl with the garlic, olive oil, lemon zest, salt, and pepper.
Place the spears in a single layer on a parchment-lined sheet pan.
Roast them until just tender, about 15-25 minutes, depending on size and thickness, tossing about halfway through. If they are losing their vibrant green color, you might be overcooking them.
Once they have been roasted to tender perfection, squeeze lemon juice over them and give them another good toss. Taste for salt, adding more if needed.
Place in a serving dish and garnish with any of the optional embellishments.
BONUS:
Raw asparagus that has been marinated and roasted asparagus will keep in your fridge for up to four days. To add extra flavor, you can toss sliced shallots into the mixture.
WAYS TO DRESS UP ROASTED ASPARAGUS
Add your favorite nuts such as pinenuts, slivered almonds, walnuts, pecans, etc.
Sprinkle with parmesan cheese
Add a drizzle of sauce such as Tahini Sauce, Romesco Sauce, Miso Dressing, Green Tahini Sauce, Gremolata, or Peruvian Green Sauce (Aji Verde)
For a different blend of sour and spice, squeeze with a little lemon juice and Aleppo chili flakes.