Introduction
About this Recipe
By: Theresa AuCoin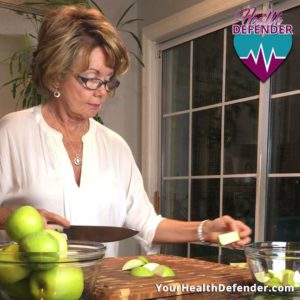 Crisp Granny Smith apples have a ton of health benefits, so I love incorporating them into HEALTHY snacks and deserts in addition to eating an apple a day most days. This is my easy, quick and simple "go to" apple desert and I usually have a container of this in my fridge ALL the time. I've even been known to eat a small bowl of this for breakfast! Topping it with my healthy whipped cream (actually coconut cream) makes it heavenly.
7 – 8 medium granny smith apples
2 tablespoons of fresh lemon juice
Nut Mixture
1 cup pecans (or more)
1/2 cup walnuts (or more)
1/2 cup sunflower seeds (or more)
4 Brazil nuts
1/4 cup almond flour
1 stick of salted or unsalted organic butter, melted
3 teaspoons cinnamon
1 teaspoon nutmeg
1/4 cup raw local honey or pure maple syrup
Coconut Whipped Cream
2 cans of Thai Kitchen Organic Coconut Milk Unsweetened Chilled
1 – 2 teaspoons vanilla extract
1 – 2 teaspoons pure maple syrup
1 – 2 droppers of vanilla stevia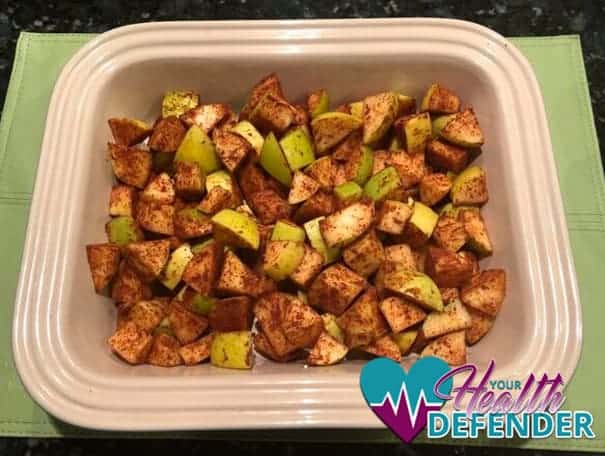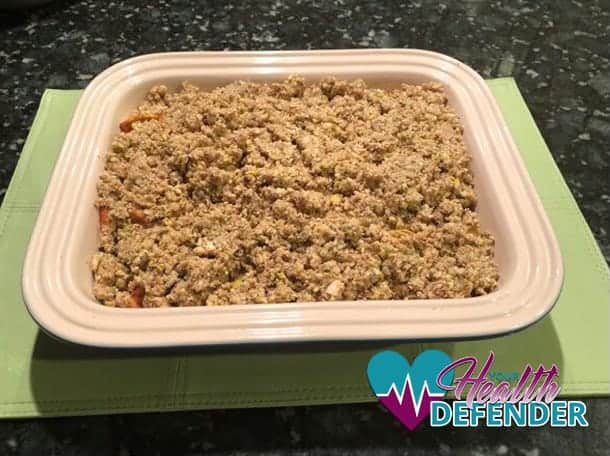 Step-by-Step Instructions
Topping Prep
Get that mighty food processor out. Grab your supply of nuts and seeds. This can include your favorites and more: Pecans, walnuts, sunflower seeds, almonds, Brazil nuts, etc. (Pecans add sweetness.) Honestly, once I have that food processor out and all my nuts & seeds out, I blend up a lot and freeze the rest. Then next time you want to make this it will take just minutes! Chop up your nuts & seeds in your food processor. Put 2 cups into a bowl and freeze the rest. Add 1/4 cup almond flour. Pour 1 stick of melted butter into the bowl and mix well.
Base Prep
Take 6 – 7 medium granny smith apples. Slice the apples to your preference, leaving the nutritious skin on. 
Drop them in a large bowl of water with a 2 tablespoons of fresh lemon juice.
 Remove and drain and place back into the empty bowl. 
Douse the apple pieces with cinnamon powder and nutmeg. Drizzle on 1/4 cup local honey or pure maple syrup & mix well.
Prep to Cook
Pour the apple pieces into a 9 x 9 or 9 x 12 glass pan. Pour the butter and nut and seed mixture on top and spread around. Bake at 350 degrees for about 20 minutes. 
Option: Cover the glass pan with tin foil for the first 10 minutes if you want the apples softer. Then remove to let the topping brown. If the topping does not brown enough for you, broil it for a minute, but do not walk away from the stove with broil on. You'll want to be there to remove it as soon as you see it browning.
Whipped Cream
Get your mixer out.Open the 2 cans of coconut milk carefully, not shaking the cans or turning upside down at all. Now, you'll see the solid white coconut cream in the top 1/2 of the can. Carefully scoop that out, avoiding the liquid below it, as much as possible.
Put the solid cream chunks into the bowl of your mixer. Blend and add the additional ingredients slowly – tasting frequently. You may not need both teaspoons of the vanilla. Start with 1 teaspoon of vanilla extract and 1 teaspoon of maple syrup and 1 dropper of vanilla stevia. Add more to your liking. Continue to blend until the mixture is quite firm. Put the finished whipped cream mixture into a container in the fridge, ready for you to use.
I usually double this recipe to have extra. The nice thing about this whipped cream, in addition to it being non-dairy, is that it will last for days, sometimes weeks in the refrigerator, keeping its firm integrity, unlike traditional whipped cream which seems to melt down very quickly.
Enjoy
Now, with NO guilt, you can have your scoop of your warm apple crisp topped with your healthy whipped cream and be in bliss! I predict that your family will LOVE this!