Introduction
About this Recipe
By: Theresa AuCoin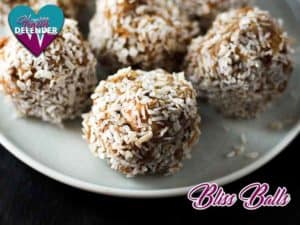 This amazing treat is my favorite because these not only TASTE fantastic, they also are VERY satisfying because of the healthy oil content, and they have amazing HEALTH BENEFITS. These are simple to make, then refrigerate, and snatch one or two whenever you have that little craving for something sweet.
1 Cup Organic Seed Butter
1 Cup Melted or Softened Organic Coconut Oil
1 Cup Toasted Organic Coconut Flakes or Coarsely Ground Organic Seeds or Nuts or Oatmeal for the Topping
1/2 Teaspoon Organic Sea Salt
Chocolate:
For the chocoholics, including myself, add 1 cup of cacao powder and stevia sweetener to taste.
Peanut Butter & Chocolate: Add to the above, 3 Tablespoons of organic Peanut Butter. Oh my, soooo good!
Step-by-Step Instructions
Prep
Put the Seed Butter, softened or melted Coconut Oil, and Sea Salt in a bowl. Mix together. If you have an immersible blender, use that to thoroughly mix them together. If you have a food processor, that works great. If not a whisk will work fine; it's just a LOT more work! Now put the blended mixture in the refrigerator until it begins to become solid. Remove and use a large melon scooper or a spoon and your hands to create medium sized balls. Roll each ball around in the topping. Chill and serve! …Yummy!
Benefits of Coconut Oil:
Improves cholesterol by increasing the good HDL
Reduces heart disease
Lowers glycemic index of foods it's added to
Increases your energy
Raises your metabolism
Contains fewer calories than any other fat
Increases burning of calories
Lowers body fat mass & reduces body weight
Helps resist viruses and bacteria that can cause illnesses.
Helps fight off yeast, fungus, and candida
Can positively affect our hormones for thyroid and blood sugar control.