"Let food be thy medicine, and let medicine be thy food."
This quote from Hippocrates has rung true for centuries, and for good reason. Food provides the fuel our bodies need to survive. Without food we wouldn't be able to walk, run, swim, dance, cook, or laugh. Food also provides the vitamins, minerals, and nutrients our bodies need to fight against illness, build immunity, keep our bones and joints strong, and so much more.
While we know that not every food is created equally (there is no comparison between a fresh filet of salmon and a Filet-O-Fish sandwich from Mcdonald's), we also know that not all bodies react to food the same way. Some people can eat healthy fats like almonds and cashews and only reap the benefits, while others break out in hives at the mere thought of tree nuts.
The same can be said for foods containing gluten. While one person may be able to eat egg whites and rye toast for breakfast, whole wheat pasta for lunch, and finish the day with a turkey wrap, another person could get incredibly ill from consuming the same, assumably healthy meals.
There are varying degrees of gluten sensitivity, including celiac disease. As defined by the Mayo Clinic, celiac disease is an immune response to consuming gluten, a protein found in wheat, barley, and rye.
According to the Mayo Clinic, if you have celiac disease, eating gluten triggers an immune response in your small intestine. Eventually, this reaction damages your small intestine's lining and prevents it from absorbing some nutrients (malabsorption). The intestinal damage often causes diarrhea, fatigue, weight loss, bloating and anemia, and may lead to serious issues. In children, malabsorption may impact growth and development, besides causing the symptoms seen in adults.
May is national celiac disease awareness month, and while I do not have celiac disease, the National Association of Diabetes and Digestive and Kidney Diseases states that around two million Americans live with the condition. Aside from that, Beyond Celiac states that an additional 18 million Americans have gluten sensitivity issues.
With so many people affected by celiac disease and gluten intolerance, the question remains – is there any cure or treatment for this unfortunate ailment?
According to the Celiac Disease Foundation, there is no cure and the only available treatment is a strict gluten-free diet. (Are the words of Hippocrates beginning to resurface in the back of your mind again?) In the case of celiac disease and gluten sensitivity, food quite literally is your medicine, and your medicine is your food.
While I do not live with celiac disease or gluten sensitivity, I know several people that do, and I, myself make an effort to incorporate gluten-free meals and snacks into my diet.
Contrary to popular belief, gluten-free recipes aren't challenging to make and are just as delicious as recipes containing gluten (if not more so)! All you need are the right ingredients, a desire to clean up your kitchen, and an open mind.
First things first; you will want to stock up your pantry and fridge with some healthy, organic, gluten-free staples including:
Rice flour
Rice (white, brown, red, wild, and abborio are all excellent options)
Coconut flour
Quinoa
Rice cakes or crackers (I love topping these with nut butter and fresh fruit)
Nuts (cashews, pecans, walnuts, almonds)
Lean meats and seafood (If possible when eating meat, try to purchase grass-fed and sustainable options)
Fresh or frozen vegetables (These are perfect for bulking up a meal without having to add bread or pasta. Tossing in a handful of frozen broccoli adds an extra dimension of flavor to your favorite gluten-free dinner recipes)
Fresh or frozen fruits (Like frozen vegetables, frozen fruits are a simple and healthy way to bulk up your meals. I love using them in smoothies, bowls, and with dessert)
Popcorn kernels (Find one of my favorite gluten-free popcorn recipes here)
Chia seeds
When I start craving a healthy gluten-free dessert, my go-to treat is banana chia pudding. Chia seeds offer major health benefits, including:
Tons of nutrients without a lot of calories
Rich in antioxidants
High-quality protein
High in omega-3 fatty acids
The ability to lower your risk of heart disease
They contain calcium, phosphorus, magnesium, and protein, which are important to strong and healthy bones
The ability to reduce blood sugar levels
Excellent source of fiber
Could reduce chronic inflammation
Easy to add into your diet (as I'll soon be showing you!)
I often make this recipe in large batches and eat it for breakfast, dessert, or a mid-afternoon pick-me-up throughout the week. Since chia seeds are an excellent source of fiber, this treat will not only taste delicious but will also keep you feeling fuller longer. This versatile snack is one of my all-time favorite gluten-free recipes as it's easy to make, accommodates so many diets, and can be made all year round.
Ingredients
1 banana
2 cups coconut milk (I use the milk in the carton, but you can use canned coconut milk as well)
2 teaspoons vanilla extract
1 tiny splash of almond extract
1 small pinch of sea salt
1 tablespoon maple syrup (optional)
3/4 to 1 cup milled chia seeds (Once you try this recipe, you'll figure out if you like the pudding thicker (more chia seeds) or not so thick (cutback on the chia seeds). It's easy to adjust.
Step-By-Step Instructions
Add all the ingredients into your blender, EXCEPT for the chia seeds
Blend well
Add the chia seeds and blend GENTLY
Refrigerate for at least three hours, or until the mixture thickens
Make this gluten-free dessert your own!
One thing I love about this recipe is the flexibility. Not a fan of coconut milk? Substitute with oat or cashew milk! No maple syrup on hand? Honey works just as well. Not in love with a thicker texture? Reduce the number of chia seeds you use until you find your perfect consistency. Make the chia seed pudding any flavor you want! Instead of bananas, how about crushed strawberries, or blueberries? How about cacao powder? What would you think about more vanilla extract with lots of added seeds and nuts? Here's an idea – create layers with coconut whipped cream to make a pretty parfait!
You can also keep the recipe as is, and get creative in other ways by adding your favorite gluten-free organic toppings! Here are a few I love to include:
Coconut flakes
Dried cherries
Honey
Nut butter (I love almond and peanut butter)
Berries (I prefer strawberries, blueberries, and blackberries)
Cacao nibs
Dark chocolate shavings
The options are endless, making this a healthy, versatile, gluten-free snack.
Whether you're impacted by celiac disease or a gluten sensitivity, you're learning to make gluten-free recipes for a loved one, or you're trying to reduce the amount of gluten you consume, this banana chia pudding is an excellent starting point to begin utilizing your food as your medicine.
Disclaimer: I'm not a doctor, and this post should not be used as medical advice. This post is not intended as a substitute for seeing your own health professional.
Find other delicious recipes here!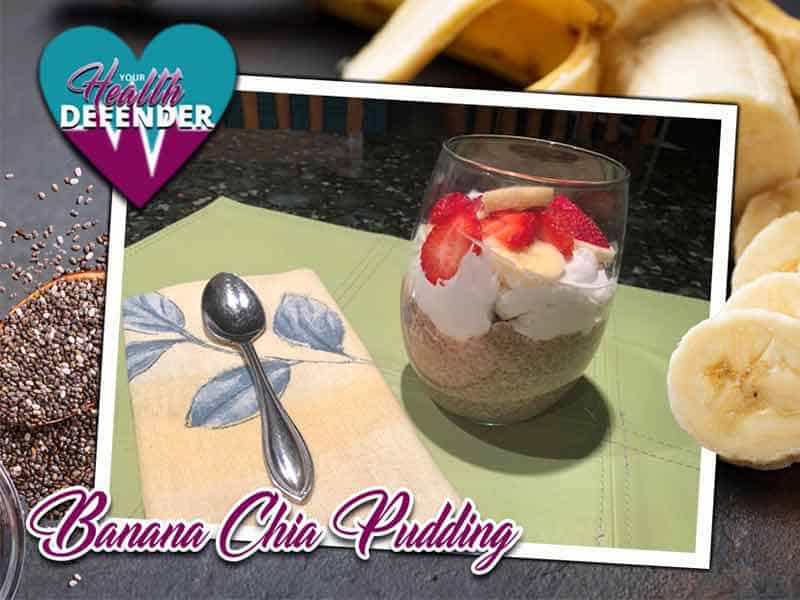 Banana Chia Pudding Treat
Is it ok to keep a stash of this in the refrigerator, most all the time? I sure hope so. When I get that sugar craving, I often just take a spoonful of this yummy treat, and that satisfies me! This is a super flexible recipe.
Ingredients
1

Banana

2

cups

Coconut Milk

I use the milk in the carton, but you can use the I use the milk in the carton, but you can use the canned one

2

tsp

vanilla

1

splash

Almond

unless you don't like this

1

dash

Sea Salt

1

tbsp

Maple Syrup

optional

3/4 - 1

cup

Chia Seeds

milled
Instructions
Add all the ingredients into your blender, EXCEPT for the chia seeds.

Now add the Chia seeds and blend GENTLY.

Refrigerate.  The mixture will not "gel" until it is refrigerated at least a few hours.
Notes
Once you try this recipe, you'll figure out if you like the pudding thicker (more chia seeds) or not so thick.  It's easy to adjust.
Nutrition
Calories:
2524
kcal
Carbohydrates:
180
g
Protein:
60
g
Fat:
189
g
Saturated Fat:
96
g
Trans Fat:
1
g
Sodium:
149
mg
Potassium:
2692
mg
Fiber:
106
g
Sugar:
27
g
Vitamin A:
236
IU
Vitamin C:
20
mg
Calcium:
1990
mg
Iron:
38
mg