If you like hearty side dishes, you will love this one. But, first, let me help convince you why you should fall in love with eggplant. Did you know that eggplant is actually a berry? No, you didn't misread. Eggplant is a fruit. That means this dish has you covered on both the veggie and fruit fronts. Could it get better?
Pairing eggplant with zucchini is a natural choice for a couple of reasons. To begin with, they are both in season at the same time. That means you don't have to go hunting for one while finding good quality in the other remains elusive. That makes dinner a lot less demanding. They also cook at the same rate, which means they are the perfect pairing to toss onto a sheet pan and roast without worrying that one will come out either over or undercooked compared to the other. How simple is this already?
If you serve this dish next to your favorite clean protein, like garlic grilled herb chicken or salmon, you'll soon tell me that you are an eggplant convert. I get it. Eggplant is amazing! And while I am boasting about eggplant, I don't want to forget my zest and zeal for zucchini. This amazing chameleon ingredient can be combined with so many different things. It's just so wonderfully versatile. However, sometimes it can be hard to get it to brown as much as I would like. So, for this recipe, you will find that I am cooking it at a higher temperature for a shorter period. That way, you will get delicious results the whole table will approve of!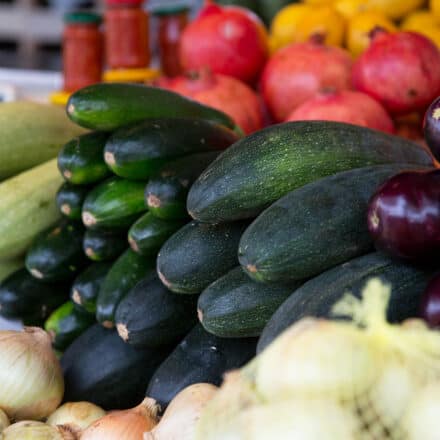 Your Healthy Side Dish: Roasted Eggplant and Zucchini
If you like hearty side dishes, you will love this one. But, first, let me help convince you why you should fall in love with eggplant.
Ingredients
1

each

eggplant

2

each

zucchini

about 7-8" in length and about 1.5 - 2" in diameter

1/2

cup

olive oil

1

tbps

salt

1

tsp

pepper

aged balsamic

I prefer aged balsamic vinegar, but you can use regular balsamic

basil

optional but recommended
Instructions
To begin with, you will want to peel the skin off your eggplant, or don't if you are already an eggplant aficionado and you know that you love it. Then, you are going to cut it into 1" cubes. Your zucchini should be cut similarly to help balance the ingredients nicely.

Preheat your oven to 450 degrees Fahrenheit

Add your eggplant into a large bowl. At this point, I like to drizzle in my olive oil to make sure the eggplant cubes get covered nicely and gently mix.

Add your zucchini and gently mix.

Add your salt and pepper and make sure that everything is mixed evenly.

Once you have combined everything, it's time to spread it all out on a large rimmed baking sheet.

Place it in the oven and roast for 20 minutes. *Halfway through, you will want to use a spatula to stir as you expose the other side of the cubes.

Pull it out of the oven and let it sit for a couple of minutes to cool.

Drizzle your favorite balsamic over the top and add Basil leaves if desired.
Notes
*Please note that I prefer to use ALL ORGANIC ingredients.*
Nutrition
Calories:
240
kcal
Carbohydrates:
0.3
g
Protein:
0.1
g
Fat:
27
g
Saturated Fat:
4
g
Polyunsaturated Fat:
3
g
Monounsaturated Fat:
20
g
Sodium:
1433
mg
Potassium:
9
mg
Fiber:
0.1
g
Sugar:
0.02
g
Vitamin A:
4
IU
Vitamin C:
0.1
mg
Calcium:
3
mg
Iron:
0.2
mg